Estimate . Design . Build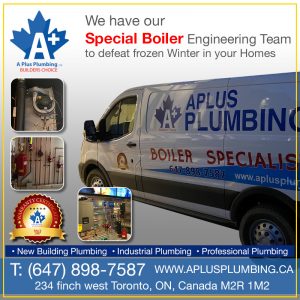 Boiler Services
Our Boiler Specialist Team will surprise you …
APlus Plumbing is a place where water, electricity, and gas meet to the highest standard. Our team of experts designs the steam that will heat the water for the home but can also be circulated throughout the home and give warmth through radiators. Boilers are very versatile heating systems that give you great comfort during the cold winter months. Today's boilers are also very energy efficient. Trust us and let the team of our Boiler engineers deal with your Winter.
Boiler and snowmelt systems in A Plus Plumbing LTD.  is one of the most advanced ice and snowmelt systems for your house exteriors, sidewalks, and driveways. What is important in this system is the engineering of hot steam injection in subsurface pipes.
Hydronic Snow Melting System
Don't wait until winter catches you off guard – prepare in advance with APlus Plumbing's expert hydronic snow melting system! Our team is ready to design and install a professional-grade system that will keep your driveways and sidewalks clear and safe all winter long.
Living in Canada, you know just how cold and frosty the winter weather can be. That's why it's important to consult with our team of specialists to achieve the best results in melting ice and snow on your property. Our hydronic snow melting systems are designed and installed by a team of experts who will provide you with unique advice tailored to your specific needs. Don't let winter weather create dangerous conditions on your property – trust APlus Plumbing to provide the ultimate in safety and convenience with our hydronic snow melting system.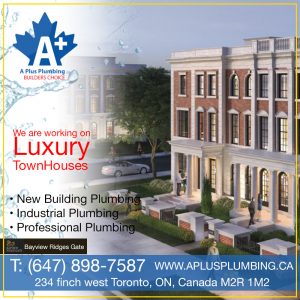 Luxury Townhouses
At APlus Plumbing, we have an impressive portfolio of successful projects under our belt, including the luxurious Lions Gates Townhouse on Bayview Avenue. With the ability to work on over 15000 FT2 at the same time, we are experts in handling even the most massive plumbing projects.
When you entrust us with your new home plumbing project, rest assured that we will exceed your expectations and deliver the highest standard of service. Our team of experts is dedicated to bringing your vision to life and providing you with the most innovative plumbing engineering solutions available.
In a city with no shortage of plumbing services for new buildings and facilities, what sets us apart is our commitment to providing honest and friendly advice from the start. We will be there for you every step of the way, from excavation to completion. Our dedication to your satisfaction is the cornerstone of our service, and we take pride in supervising every detail of your project according to the highest standards. Trust APlus Plumbing to deliver exceptional plumbing services that exceed your expectations.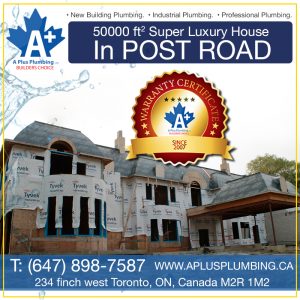 Luxury Post Road Mansions
At APlus Plumbing, we take pride in being at the forefront of providing plumbing services to massive luxury homes. With more than twenty luxury houses located in some of the most expensive neighborhoods under our belt, we are confident in our ability to deliver exceptional service. Our warranty for some of our projects gives our clients peace of mind, knowing they can trust us to deliver top-notch workmanship.
We understand that living in a large, luxurious home is not just about displaying wealth. It's about enjoying great services, a good ambiance, big spaces, high-end perks, and making great memories. Water supply is one of the five principles of well-being and pleasure in luxury homes, and we are committed to providing it professionally.
Our team of experts is highly skilled and experienced in carrying out complex and modern projects, such as the Post Road house. We take pride in being one of the few contractors with the ability to deliver such projects with precision and excellence. Trust APlus Plumbing to provide you with exceptional plumbing services that enhance the quality of life in your luxury home.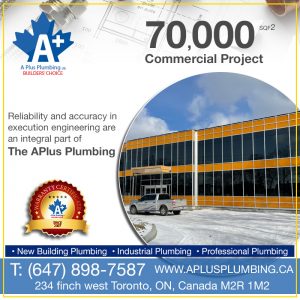 Commercial Plumbing
Our after-job service is second to none, with a performance guarantee and one-year warranty on all our work. When you work with us, you can expect operational order and discipline at every stage of the project, ensuring that everything is completed to the highest standard. We take pride in delivering exceptional results and exceeding our clients' expectations.
We invite you to take a look at our portfolio to see some of our previous work and examples of our executive power. If you have a big project in mind, don't hesitate to reach out to us. Trust APlus Plumbing to deliver exceptional plumbing services that meet your commercial needs.
At APlus Plumbing, our team of designers, engineers, and plumbers is ready to tackle your commercial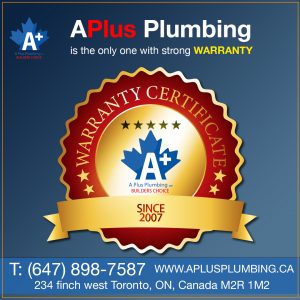 APlus Warranty
At APlus Plumbing, we are committed to delivering exceptional plumbing services that exceed our clients' expectations. We stand behind our work and offer a one-year full guarantee for all our new plumbing projects. Our commitment to excellence extends beyond the completion of the project, ensuring that our clients are satisfied with our work in the long run.
Our guarantee provides peace of mind for our clients, knowing that we take full responsibility for our work and will address any issues that arise within the first year. We believe that this commitment to our clients sets us apart from other plumbing service providers and demonstrates our dedication to delivering quality workmanship and outstanding customer service.
When you work with APlus Plumbing, you can rest assured that your plumbing project is in the hands of experts who take pride in delivering exceptional results. Trust us to provide you with plumbing services that meet your needs and exceed your expectations, backed by our one-year full guarantee.